Join me for a four week online Cacao Spirit Connection
Many of you have heard or felt the call from the spirit of cacao. This is for those who are wanting to connect deeply with the cacao spirit. And reconnect with your heart, your body, your soul, Mother Earth, and the divine.
Take a sip of the Ancestral Chocolate and be transported into the heart of mother earth, into your heart and the heart of cacao. This sacred gift guides you into your intuition, your creativity, your expression that is craving to be understood and expressed freely. Whether you are a writer, singer, yoga teacher, healer, hair stylist, coach or have any other vocation. Cacao is being worked with from the jungles to the boardrooms. 
Intention
My Intention for this course is to assist you in connecting deeply with the cacao spirit and your remembering. To remind you of your connection to your wholeness and oneness.
In this course:
·  4 prerecorded videos with educational material
·      Learn all about Cacao Ceremony
·      The history of Cacao
·      Ceremonial Cacao recipes
·      Prayers
·      Cultivate self-awareness, love, & personal transformation
·      Connect more fully with your gifts & purpose
·      Grow your confidence in sharing Cacao
Tools to create your own gatherings with Cacao


In this program, you get to embody and deepen your own practice with the spirit of cacao. This way you will deeply understand the process from the inside out and feel into your natural confidence with being a light worker and Earth guardian in this world. 

Let me tell you a little bit about my own journey..



My name is Christine Olivia Hernandez, of Mayan and Aztec descent, called on by my ancestors and the spirit of cacao to share the gift of the gods. Cacao is my ancestral plant and my strongest plant ally.


My role here is to help you come closer to your spirit and open to your truth. I wish to guide you to deep listening with curiosity and openness. And with the assistance of the cacao spirit you will feel supported, nourished, and able to connect to your heart and oneness.

I've dedicated my life to Cacao
I've spent several years aligning with the spirit of cacao and she wants me to share what I know with the world.


You are going to leave this course in touch with the spirit of cacao. Whether you want to have gatherings where you share ceremonial cacao or simply deepen your own practice. It's perfect if you have children or not, if you're in a relationship or wanting to self-reflect. Cacao is called a heart opener because it opens your heart to allow for more connection, more magic, more abundance to flow through. We're able to get out of the way from blocking life force energy and open to infinite possibilities with spirit.


A gentle yet powerful way to connect with your inner self and tap in with your truth and magic
And an amazing way to get to meet new people. Everyone wants to experience the magic of cacao. So this is the perfect way to connect deeply with heart centered people. It's the ultimate networking tool because it opens our hearts and gets past the surface into heart center. Where we can connect on a soul level.
Picture This
You wake up in the morning and spend your first hour in presence with a warm cup of ceremonial cacao, meditating as the sun rises, journaling, stretching your body and dancing.
You ask yourself what you feel like doing:
·      Do I want to be creative?
·      Do I want to get things done?
·      Do I want to rest and recharge? 
You get to spend this sacred pause doing the things that help you grow, connect, and understand your truth and purpose.
You get to spend your time on what sets YOUR soul on fire
You finally write that book you've been meaning to write
You launch that wellness business you've been dreaming for
You plan to take time off to travel
You organize sold-out retreats in Bali, Costa Rica and Hawaii
You redecorate your house and create the sacred haven you've been waiting for
You spend time with soul fam you don't get to see often enough
You take walks outside
The beauty is,
Right now you have that choice and the cacao can assist you in this.




Imagine..
You are in control of your life
You can be present with yourself
You can listen to your heart
You can eat the healthy foods
You can drink the nourishing plant allies
Go on a journey into the heart
Connect with yourself more deeply
Connect with the soul family and tribe
Connect with the Earth and the deeper World around you
The sky is your horizon
And anything is possible because you have now shifted into the Heart
Gone are the fears of not being enough or having enough
About worrying
About stressing
You can live your life with ease
No longer a servant to the mind
In fact,
You find yourself free
Whole, Healthy, and Holy




This is your birthright
This is what you are capable of
This is what I will guide you to
Cacao helped me to Change My Life
I would not have written my book or script, managed my own business, and had time for my partner, dance, world travel, yoga, spiritual practice, and mandatory time in nature, if it wasn't for CACAO!
It is LIFE CHANGING because when you work with this magical plant, get still and REST, you are able to listen and HEAL with the assistance of Cacao. You are able to heal your inner-child and do ancestral healing.
So many healers/ coaches/ empaths/ mothers/ women in general give themselves fully to others, and then end up giving from an empty cup


You can focus on your passions and create a living more heart centered and abundant than your wildest dreams
YOU CAN HAVE IT ALL.
The same passion I have for teaching everyone about Cacao is just as strong for teaching everyone about living heart centered with the inner child because both have been the most life-changing lessons of my life
Living heart centered and sharing about Ceremonial Cacao has healed my mind/body/spirit so I can create more beauty in my life
I created the Heart of Cacao Ceremony Online Program and have done numerous podcasts on Ceremonial Cacao, Heart centered living, Inner child care, magic, creativity and guided thousands of people through cacao ceremonies
But the same questions kept coming up..
How can I share cacao in a good way?

How can I learn how to be more creative?
What if I don't even know where to start?
 Here is my solution..
Join me now on the journey to the Heart with The Heart of Cacao Ceremony Online Course!

This Program is for you if..
You feel you want to change your life for the better
You love cacao and want to dive deeper
You want to live a life of ALIGNMENT over hustle
You are a coach/ creative/ healer/ entrepreneur and are ready to take your business to the next level
Your definition of purpose has nothing to do with cars, bags, shoes and fancy houses and EVERYTHING to do with living a life of freedom, purpose and joy
You want to stop worrying and start focusing on the BIGGER picture and what REALLY matters

The Cacao spirit made a profound effect on my life several years ago and I have been working with the plant medicine ever since. It changed my life when I was in Bali and was introduced to Guatemalan ceremonial cacao in a Shamanic journey. Guatemala was where my father and our ancestors were from. I felt an instant connection to my ancestors calling me to the land to connect with them and with the cacao spirit. I went to Guatemala not long after and have been deeply connected ever since. I am called to share their gift and it's been a blessing to be of service in this way. 


I want to add that I knew my father was an immigrant from Guatemala, but I had never really gotten to know him in the physical form, he was depressed, in and out of my life since I was a child and took his life. So, the cacao spirit gave me the opportunity to connect with him on a deeper level, with his spirit, on the truest level that's possible. I feel him deeply and know that he is one with me. He has always been with me, watching over me, and living vicariously through me. This is important to note because we will all lose a loved one, life and death go hand in hand, and the cacao can divinely connect you deeply with your ancestors' spirit and with your wholeness and oneness.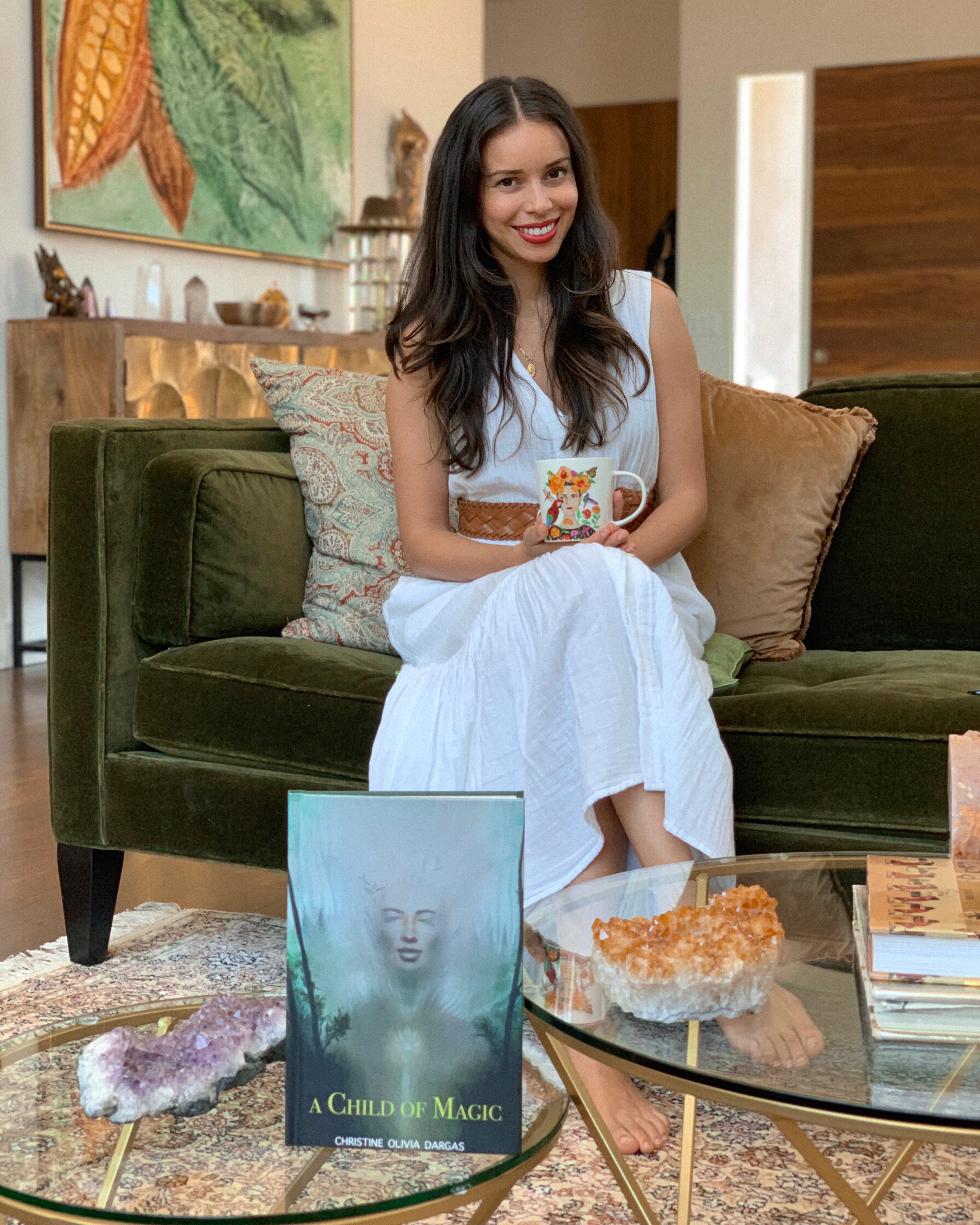 Christine Olivia Hernandez is the creator of the Maltyox Method a gratitude method to get people out of their heads and into their hearts, an author, cacao ceremonialist, first time screen writer, and director. Her screen play is an adapted version of her published book, "A Child of Magic," a fiction based on her own journey of remembering and a reminder to tap into the inner child, truth, and magic. She enjoys creating, expressing, and helping others through storytelling and cacao ceremonies.
Christine's Guatemalan ancestors have deeply connected her to the gentle plant medicine cacao. In ceremonial settings she serves the sacred "Gift of gods" and guides her clients back to their hearts with love. 

GET INSTANT ACCESS TO THIS COURSE WITH LIVE RECORDINGS AND WORKBOOK
The Heart of Cacao is such a beautiful, divine experience that lets you connect to yourself through the spirit of cacao. Having participated in quite a few ceremonies, I took the program to deepen my connection to this my spirit plant and also to be able to lead others on this sacred journey back to themselves and their heart. Chrisitine Olivia sets the example for how to hold space and be vulnerable during the live calls, together with a solid foundation in the form of getting a cultural context for the cacao consciousness and more practical aspects for how to organize a ceremony. I set the intention during the program to organize my own ceremonies in the near future, without seeing how it would manifest. I recently went to a store in Amsterdam where I live to buy ceremonial cacao, and ended up getting offered to organize ceremonies for them! I definitely think Heart of Cacao helped me in this. Thank you Christine for sharing your vast knowledge and wisdom so generously!- Linnea Seger
"I loved cultivating a personal relationship with Cacao, and how this contributed to a more loving relationship with self. I especially enjoyed learning each week new ways to have a ceremony. From singing, to dancing, meditation, and the many ways to create sacred space and spaciousness. To cultivate a personal relationship with Cacao and allow her to facilitate your inner journey, intentions, prayers, healing or transformations.
One of my favorite practices is through embodiment, and Cacao and the many ways we are taught to practice our ceremonies furthers this expression - from dancing, singing, and meditation. 
Cacao is such a beautiful plant ally to add to your life, and with this course you also dive deep into knowledge of Cacao, it's history, benefits, and beautiful ways to practice your own ceremonies! There is also an aspect of richer and more loving relationship to your self that is cultivated in this practice. You are reminded of your own magic, the magic of the world around you, and the one-ness that is shared within you and all. Whatever your intentions are - from cultivating creativity, self expression, alignment with your dharma, healing, magic… Cacao and working with Christine can beautifully assist.
I was surprised by the profound healing that occurred for me during the final ceremony! This was so because Christine cultivated trust and shared vulnerability with us, which allowed me to open up. The climate of the world was/is such that we were all feeling a lot. Already dedicated on a healing journey, and then finally leaning into the stillness you can cultivate in meditation facilitated by cacao allowed me to feel, heal, and release another layer I had carried and pour in love. 
I also loved the week dedicated to signing and voice activation, and felt myself break down barriers to using my voice in song! 
This was such a beautiful, magical, and meaningful journey for me. I intend to circle back to the videos often in my practices with Cacao, and Cacao is a lifelong plant ally for me now. I am so grateful to Christine for sharing her wisdom, and to the indigenous peoples throughout time to today who have preserved these traditions and brought this medicine to us." – Taylor Wyman
"The heart of cacao course was so helpful to me at this exact time in my life. Christine is always able to guide me back home to what my heart is trying to express. It's her magical gift and I've been lucky to experience this healing in ceremony on a few occasions.
One of my favorite parts about the course was how diverse we all were but when we brought it back to center there was a clear sense that we were all seeking the same thing. LOVE. The energy of the group was powerful.
Life before the heart of cacao was frustrating. I felt stuck and there was a presence of fear in using my voice to express what I was feeling, what I was desiring and what I believed in. 
After the heart of cacao, I recognize when that feeling of hesitation comes up and fear kicks in to block me from speaking my truth. I understand that whatever I'm saying, if the intention is good and it really is a truth then there is no need to fear saying it aloud.
I was surprised to see how softening into the spirit of cacao actually empowered me to become stronger and happier. This course helped us truly dance with the nature of feminine divine…
Every journey with cacao has been unique for me the past couple years. I cherish her nurturing energy and grounding properties. When I was a little girl, I had a deep love for chocolate but I thought it was just the sugar and the taste. As I got older and started eating darker more raw chocolate, I still had this same connection. I realize that there is something about cacao spirit that simply makes me happier. Its more than just the natural happy chemicals that increase in my brain... its the soul of cacao that heals me and brings me to a blissful state." -Shireen Kaviani
REFUND POLICY: All sales are final. Since this is an instant access product there will be no refunds.